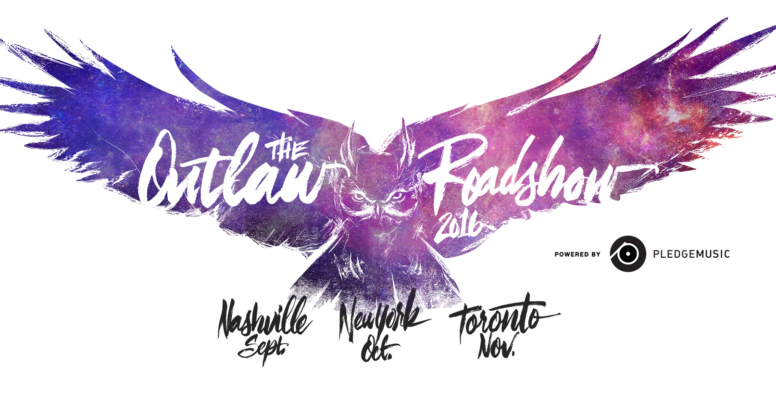 ANNOUNCING A PARTNERSHIP WITH PLEDGEMUSIC
NEW YORK, NY – The Outlaw Roadshow (http://outlawroadshow.com), founded by Counting Crows singer Adam Duritz and Boston music blogger and radio host Ryan Spaulding (@theRSL), today announce an exciting new partnership with PledgeMusic who will co-present their Outlaw dates in North America this fall.
"PledgeMusic and the Outlaw Roadshow complement each other perfectly," said Dominic Pandiscia, CEO of PledgeMusic. "The quality of artists and music that The Outlaw Roadshow helps expose is of a very high caliber and PledgeMusic is all about connecting the super-fan into that artistry and experience on a global scale."
FALL 2016 OUTLAW ROADSHOW TOUR CALENDAR
Powered by PledgeMusic
Nashville, TN – Sept 15, 16, 17 The Mercy Lounge & The High Watt * Free to the public – RSVP opens soon!
New York, NY – Oct 20, 21, 22 The Bowery Electric * Free to the public – RSVP opens soon!
Toronto, ON – Nov 17, 18, 19 Venues TBA Indie Week Canada * Day Passes available
"Working with PledgeMusic closely this year will allow us to reach our largest audience to date. Finding the right partner to help us along the way was something important to Adam and I during our process," said Outlaw Executive Producer Ryan Spaulding. "PledgeMusic are a positive force in music today. They already possess a huge online community of users and supporters, all of whom love music. This collaboration, this whole year gives me so much hope. Chalk one up for the good guys!"
As with years past, the Outlaw Roadshow returns to New York and Nashville. A year after The Outlaws took the show to Tel Aviv, Israel, they will embark north for the tried-and-true independent music waters of Toronto, Ontario, celebrating Indie Week in what could be the best run of live music dates in Canada this year.
"For years we have been trying to have The Outlaw Roadshow at Indie Week Canada and the timing has never quite worked. This year we have moved our event to November, and we are thrilled that we finally have the opportunity to showcase their incredible performers," said Darryl Hurs, Founder of Indie Week. "We share the same goals of developing emerging artists and showcasing them in front on an industry audience. We are really looking forward to seeing the artists they showcase and know it will be one of the highlights of our event."
A FEW BANDS WHO'VE PLAYED THE OUTLAW THE LAST FEW YEARS: COUNTING CROWS – JESSE MALIN – AUGUSTINES – HEARTLESS BASTARDS – FIELD REPORT – HACIENDA – THE SUFFERS – LOLA MARSH – CORY BRANAN – LUCY ROSE – NINET TAYEB – HEY MARSEILLES – ELEL – JUKEBOX THE GHOST – YOUNG BUFFALO – GENTLEMEN HALL – STAR & MICEY – JC BROOKS & THE UPTOWN SOUND – BROWN BIRD – ANIMAL YEARS – KINGSLEY FLOOD – THE SECRET SISTERS – BLACK BOOKS – WILL DAILEY – YOU WON'T – THE SUSAN CONSTANT – TWIN BERLIN – AIR TRAFFIC CONTROLLER – BRIDGES & POWERLINES – TENDER MERCIES – PHOX – NATE LEAVITT – CAPPA – TYLER STENSON – SUN TAILOR – STEVEN ROTH – MELLOW BRAVO – NAKIA – FANTASMES – DANIEL ELLSWORTH – SLOW RUNNER – CANYON SPELLS – CASK MOUSE – TALLAHASSEE – ANGEL SNOW – STEREO TELESCOPE – FORT FRANCES – K PHILLIPS – FLEURIE – BUFFALO RODEO – MATT SUCICH – THE SILKS – RAINBOW KITTEN SURPRISE – TOWN MEETING – FILLIGAR – OLDJACK – MAYA JOHANNA – SKUNKMELLO – MOBLEY – GOLDEN BLOOM – JULIE RHODES – THE QUAILDOGS – ERIN RAE – THESE WILD PLAINS – JILL ANDREWS – CHEYENNE MEDDERS – RYAN HAMILTON – THE LONGWALLS – MIDNITE ON PEARL BEACH – CALEB GROH – BOOM FOREST – DIANA DEMUTH – AVI JACOB – ANIMAL TALK – DANIEL BLUE – MATT HOPPER – JAY NASH & MANY MORE
Duritz and Spaulding met during a press interview in 2008 as Counting Crows were about to release their Saturday Nights & Sunday Mornings album. They became fast friends and decided they wanted to find a way to work together. The Outlaw Roadshow was born. After the first few Roadshows blew up in Austin and in New York City, The Outlaw founders knew they were on to something. Bands ask to come back and play and the fans keep coming back.
"I am a long time attendee of The Outlaw Roadshow," said PledgeMusic's Jayce Varden, Cofounder & Head of Global Campaign Operations. "Having developed a relationship with Ryan based on our mutual respect of artists and dedication to supporting artist development, we've finally connected our two companies whose core values align — to be artist-first, fan-centric, and to celebrate of music as art."
In celebration of the 2016 dates, video and audio recordings of prior Outlaw Roadshows will soon be unveiled. There will be surprises all year long and in each city.
"We want everyone to get excited for what we are building here today," said Spaulding. "These live shows in three North American music cities could be the best music experiences of our lives."